Posts for tag: teeth grinding
By Tressa Priehs DDS
July 18, 2021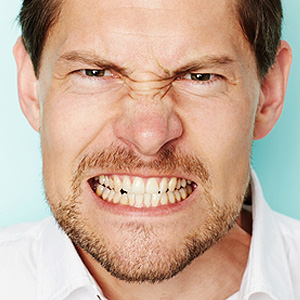 Your teeth naturally wear as you age, but you may be making it worse if you grind your teeth.
Teeth grinding is a behavior that causes the teeth to gnash, grind or clench against each other generating forces greater than those produced from normal biting. These forces often result in tooth wear that cause not only functional problems but result in a more aged appearance. Grinding occurs while a person is awake, but most often episodes occur while asleep at night.
Teeth grinding is quite common in children, but not usually of great concern since most grow out of it. There's even a school of thought that teeth grinding might even help readjust an uneven bite.
Among adults, though, other factors seem to contribute to teeth grinding. Many researchers believe nighttime grinding occurs as a person passes through different sleep phases including deep REM (Rapid Eye Movement) sleep. It may also have a connection with chronic snoring.
Certain medications seem to contribute to teeth grinding, particularly psychoactive drugs like amphetamines. Nicotine falls in this category, which could be why tobacco users report twice the incidence of the habit compared to non-users. Teeth grinding is also connected to another fact of modern life: stress. People who grind their teeth tend to have higher levels of anxiety, hostility or depression.
Because there are multiple triggers, there are many treatment approaches. Whatever course we take, our aim is to eliminate or minimize those factors that contribute to your habit. For example, we can create a custom mouth guard for night wear to prevent the teeth from making solid contact and thus reduce the biting pressure.
Perhaps the most important thing is to control or reduce stress. This is particularly helpful at night to prepare you for restful sleep by changing some of your behaviors. We also encourage investigating other stress therapies like biofeedback, meditation or group therapy.
Whatever the means, bringing teeth grinding under control not only reduces problems now, but could also help prevent abnormal teeth wearing and future health issues down the road.
If you would like more information on causes and treatments for teeth grinding, please contact us or schedule an appointment for a consultation. You can also learn more about this topic by reading the Dear Doctor magazine article "Stress & Tooth Habits."
By Tressa Priehs DDS
August 02, 2020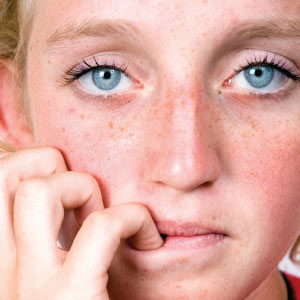 Along with thumb sucking, childhood teeth grinding is one of the top concerns anxious parents bring to their dentists. It's so prevalent, though, many providers consider it normal behavior—the sleep-disturbing sound it can generate is often the worst consequence for the habit.
But that doesn't mean you should brush aside all concern, especially if the habit continues into late childhood. Long-term teeth grinding could eventually damage the teeth and gums.
Teeth grinding (or clenching) is the involuntary movement of the jaws when not engaged in normal functions like chewing, speaking or swallowing. The action often produces higher than normal chewing forces, which over time can accelerate tooth wear, cause fractures, or contribute to loose teeth, all of which could increase the risk of dental disease. While it can occur at any time it's most common among children during nighttime sleep.
While stress is the usual trigger for teeth grinding in adults, with young children the causes for the habit are more complex and less understood. Most doctors hold to the theory that most pediatric teeth grinding arises during shifts from lighter to heavier, rapid-eye-movement (REM) sleep. The child's immature neuromuscular chewing control may engage involuntarily during this shift. Teeth grinding is also prevalent among children who snore or mouth-breathe, or who take anti-depressant medication.
But as mentioned before, there's usually no cause for concern unless the habit persists beyond about age 11. If the habit isn't fading, you should speak to your dentist about ways to reduce it or its effects. One way is with a custom-made night guard worn during sleep. The smooth, plastic surface of the appliance prevents teeth from making solid contact with each other during a grinding episode.
You might also seek treatment from an ear, nose and throat (ENT) specialist if your child is having issues with airway obstruction, which could also relieve teeth grinding. And children experiencing stressful situations or events may find relief both emotionally and physically from psychological therapy.
At younger ages, you can safely regard your child's grinding habit as normal. But if it persists, it's worth looking for ways to reduce it.
If you would like more information on your child's teeth grinding habit, please contact us or schedule an appointment for a consultation. You can also learn more about this topic by reading the Dear Doctor magazine article "When Children Grind Their Teeth: Is the Habit of 'Bruxism' Harmful?"
By Tressa Priehs DDS
November 16, 2019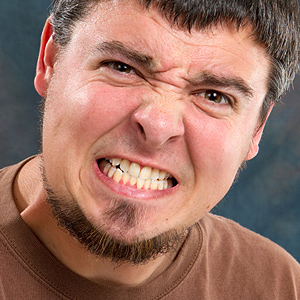 Teeth grinding and other biting habits are more than a nuisance — they can generate twenty to thirty times the forces of normal biting. Over the long term, this can cause significant damage to teeth and supporting gums and bone.
This particular kind of damage is known as occlusal trauma (meaning injury from the bite). In its primary form, the habit itself over time can injure and inflame the jaw joints leading to soreness, swelling and dysfunction. The teeth themselves can wear down at a much faster rate than what normally occurs with aging. And although less common but even more serious, the periodontal ligaments holding teeth in place to the bone can stretch and weaken, causing the teeth to become loose and increasing the potential for tooth loss.
There are a number of techniques and approaches for treating excessive biting habits, but they all have a common aim — to reduce the amount of force generated by the habit and the associated problems that result. A custom occlusal guard, often worn while sleeping, helps lessen the force by keeping the teeth from making solid contact with each other. Tissue soreness and swelling can be relieved with anti-inflammatory drugs like aspirin or ibuprofen, muscle relaxants or physical therapy. In cases where stress is a main driver, behavioral therapy and counseling may also be helpful.
Biting forces are also an issue for patients with periodontal (gum) disease. In this case even biting forces within normal ranges can cause damage because the diseased gums and bone have already been weakened. If gum disease is a factor, the first priority is to treat the disease by removing built up plaque. Plaque is the thin film of bacteria and food remnant that's both the cause and continuing growth of the infection, as well as tartar (calculus) from all tooth and gum surfaces.
A thorough dental exam will reveal whether a tooth grinding habit is playing a role in your teeth and gum problems or if it's magnifying the damage of gum disease. In either case, there are appropriate steps to stop the damage before it leads to tooth loss.
If you would like more information on teeth grinding or other biting habits, please contact us or schedule an appointment for a consultation. You can also learn more about this topic by reading the Dear Doctor magazine article "Loose Teeth."