Posts for tag: nutrition
By Tressa Priehs DDS
January 09, 2021
During this time of year, many of us dust off traditional family recipes and make our favorite holiday treats. There is, however, a small price to pay for all that nostalgic goodness in the shape of a few extra pounds to deal with in the new year. We may also be increasing the risk for something even more unpleasant: tooth decay.
The main cause, of course, is a certain carbohydrate integral to many holiday goodies: sugar.  We humans love it, but so do oral bacteria that readily devour any sugar lingering in our mouth after eating. This fuels bacterial reproduction, which in turn increases the production of acid that softens tooth enamel.
There are a number of strategies you can follow to reduce this effect. You can remove sugar completely from your holiday preparations—and risk family and friends "voting you off the island." Or, you can try these tips for easing the impact of holiday sugar on your dental health.
Look for ways to reduce sugar. Just because you're not throwing the sugar bowl out the window doesn't mean you have to go all out using it. Instead, try to modify older recipes (or look for newer versions) to decrease the amount of sugar in candies and baked goods. You may also consider alternative sweeteners like sucralose that tolerate high baking temperatures.
Balance savory with sweet. Not all holiday treats need to be sweet—you can add items that take advantage of more savory seasonings. For example, try offering up popcorn with a sprinkling of cinnamon or other holiday spice, or a creative assortment of cheeses (which in turn promote saliva flow to neutralize acid).
Combine treats with mealtimes. Continuous snacking may be part of the holiday tradition, but it can also raise the risk for tooth decay. Acidity increases when we eat, but saliva normally neutralizes it within thirty minutes to an hour. However, saliva can get overwhelmed during continuous snacking, resulting in longer periods of high acidity that damages tooth enamel. Instead, try to combine snack times with mealtimes.
Don't neglect your oral hygiene. Even though things can get hectic during the holidays, make a point of keeping up daily brushing and flossing. Regular hygiene keeps dental plaque, a thin film of harmful bacteria and food particles (including sugar), from building up on your teeth. Reducing plaque lowers your overall decay risk. Attention to oral health through your day-to-day dental hygiene routine along with regular professional cleanings and checkups is the best thing you can do to avoid dental disease.
The holidays should be a joyous time for you and your family. They can also be a healthy time for your teeth and gums, if you minimize the role of sugar in your holiday treats.
If you would like more information about boosting your dental health, please contact us or schedule a consultation. To learn more, read the Dear Doctor magazine articles "Nutrition & Oral Health" and "The Bitter Truth About Sugar."
By Tressa Priehs DDS
July 13, 2020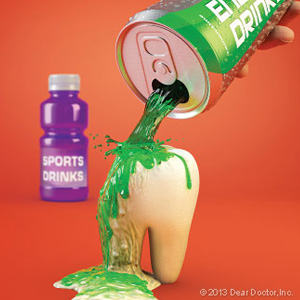 Energy drink makers would have you believe their products are a healthy rehydration choice for athletes while also giving them keener focus and renewed vitality. But before adding them to your sports regimen, you should also consider what effect these beverages could have on your teeth.
Energy drinks are similar in ingredients to sports drinks like Gatorade® and PowerAde®, which mostly consist of water, salts, vitamins, sugars and acids. In addition, energy drinks like Red Bull® and Monster Energy® add caffeine to boost energy.
Besides their sugar content, the main threat from a dental health perspective for both of these drinks is their acidity, which can severely erode tooth enamel. The irreplaceable loss of enamel significantly increases your risk of tooth decay and eventually tooth loss.
The threat of enamel erosion is especially pronounced whenever the mouth's pH level falls below 5.5. The acidity of both sports and energy drinks falls well below this mark. In one experimental study samples of enamel exposed to a number of sports drinks lost an average of 1.5% of mineral content over five days; energy drinks more than doubled that loss at 3.1%.
Given the potential harm these beverages, especially energy drinks, can cause your teeth, you should exercise caution when consuming them. In fact, our best advice is for you to avoid energy drinks altogether, for your overall health as well as your teeth's sake.
Unless you're participating in a physically intense sport, water is your best source for hydration after exertion. Â If you do drink sports beverages, try to limit them to meal times when your saliva is most active to neutralize mouth acid. You can also rinse out your mouth with water after drinking to help further reduce mouth acidity.
As an athlete, you've trained your body to be at its optimum physical peak. Don't let energy or sports drinks take the edge off your health, especially your teeth.
If you would like more information on the effects of sports or energy drinks on dental health, please contact us or schedule an appointment for a consultation. You can also learn more about this topic by reading the Dear Doctor magazine article "Sports and Energy Beverages Bathe Teeth in Erosive Acids."
By Tressa Priehs DDS
June 24, 2018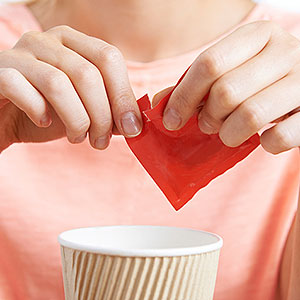 Refined sugar is a prime food source for disease-causing oral bacteria. As bacteria consume sugar they produce high levels of acid that over time can erode enamel and leave a tooth vulnerable for decay.
The solution to stopping this vicious process is simple: cut back on eating refined sugar. The reality, though, is a bit more complicated. Many of us seem genetically hard-wired with a "sweet tooth," perhaps a remnant of our early ancestors' sense that sweet foods were a safe means to obtain energy.
Food manufacturers likewise don't help with making this dietary change — the number of items with added sugar has ballooned over the last several decades. We can trace a lot of this back to the unintended consequences of past government guidelines that called for removing fat from processed foods. But this also removed flavor, so manufacturers began adding sugar (under a myriad of names) to compensate.
Sugar consumption is now a hot health topic for its suspected connection with inflammatory diseases like diabetes and cardiovascular disease, as well as dental health. We now have a love-hate relationship with sugar — we want to show it the door but we can't quite bring ourselves to let it go.
The situation has created a market for artificial sweeteners. The amount and types of sugar alternatives has exploded since saccharine first emerged in the early 1960s. With these increased choices, though, there have also been increased concerns over their health impact, including in the mouth.
This concern has prompted numerous research studies. The conclusion: artificial sweeteners don't adversely affect the health of most people. And, from a dental perspective, artificial sweeteners can have a positive impact on teeth and gum health because unlike refined sugar they don't promote oral bacterial growth.
In fact, one particular sweetener may be even more beneficial to your teeth: xylitol. This sweetener, which comes from a sugar alcohol that oral bacteria can't digest, is often found in chewing gums, hard candies or mints. Â In effect, xylitol "starves out" bacteria to help prevent tooth decay.
From a dental perspective, replacing sugar with an artificial sweetener (especially xylitol) can be advantageous. And less sugar could mean more good news after your next dental checkup.
If you would like more information on artificial sweeteners, please contact us or schedule an appointment for a consultation. You can also learn more about this topic by reading the Dear Doctor magazine article "Artificial Sweeteners."