Posts for: October, 2021
By Tressa Priehs DDS
October 16, 2021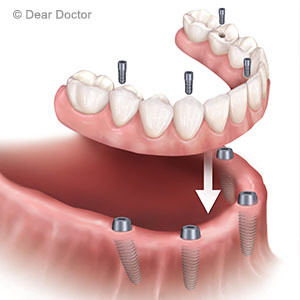 Losing all your teeth can dramatically impact your life for the worst. Fortunately, we can give you your "teeth" back. The most common way, at least until a few decades ago, is with custom dentures, which reasonably restore life-like appearance and dental function. But it does have one major drawback—it can't stop bone loss.
Loss of bone in the jaws often occurs with missing teeth. Normally, the bone continuously generates newer cells to replace older ones that have died. Chewing stimulates this growth as the force generated travels up through the teeth to the bone. But when teeth go missing, new bone growth slows, eventually causing the bone's volume and density to decrease.
Dentures can't reactivate this lost stimulation, and so bone loss may continue. Dentures even accelerate this loss as the compressive forces applied to the bony ridge are detrimental. This often leads to a "loosening" of a denture's fit that can make them uncomfortable and less secure to wear.
Today, however, patients with total tooth loss have another option that could alleviate the problem of bone loss—dental implants. Since their inception forty years ago, implants have become the preferred method of both dentists and patients for tooth replacement.
Implants consist of a titanium metal post that's surgically imbedded into the jawbone. Bone cells are attracted to this particular metal, readily multiplying and adhering to the implant's titanium surface. Because of this, an implant can slow or even stop bone loss.
Most people are familiar with the single tooth implant with an attached lifelike crown. Although this use of implants could be used to restore total tooth loss, it can be quite costly replacing over two dozen teeth individually.
But implants could still be part of the answer for someone with complete tooth loss, because they can also be used to support traditional restorations. A few implants strategically placed around the jaw can support either a removable denture or a fixed bridge.
Besides being a cost-effective way to add support to these traditional tooth replacements, the inclusion of implants will likely decrease continuing bone loss. Most importantly, it can give you back your dental function—and your smile to boot.
If you would like more information on dental implant options, please contact us or schedule an appointment for a consultation. You can also learn more about this topic by reading the Dear Doctor magazine article "New Teeth in One Day."
By Tressa Priehs DDS
October 06, 2021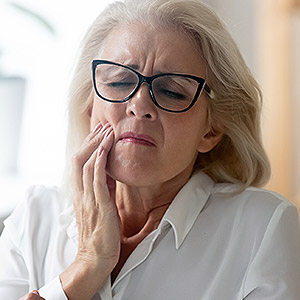 Physical pain is unpleasant—but not knowing why you're hurting makes it worse. Thousands of people encounter such as experience when parts of their face suddenly and mysteriously erupt in pain.
Often, though, the mystery can be quickly solved—more than likely, it's a nerve disorder known as trigeminal neuralgia (TN). Typically seen in people over 50 (and in more women than men), TN is a chronic condition that produces brief episodes of acute, spasmodic pain.
The source of this pain is the trigeminal nerve, which courses down each side of the face. Each nerve consists of three distinct branches that serve the upper, middle and lower areas of the face and jaw.
Physicians usually find that a blood vessel has come in contact with the nerve at some point, and the resulting pressure has damaged the nerve's outer insulative layer (myelin sheath). This causes the nerve to become hypersensitive at the point of contact, overreacting in a sense to the slightest touch (even a wisp of wind) on the face and jaw.
TN isn't the only source of facial pain. It can also accompany other conditions like TMD, which is why it's important to undergo a diagnostic examination. If you are diagnosed with TN, there are a number of ways to manage it. The most conservative approach (and the one usually tried first) is the use of medications to block pain signals from the nerve to the brain or to lessen abnormal nerve firing.
If medication proves ineffective or there are other factors related to age and health, you may be a candidate for a surgical solution. In one such procedure, a surgeon inserts a thin needle into the affected nerve and selectively damages some of its fibers to prevent the transmission of pain signals. Another procedure relocates the impinging blood vessel, which then allows the nerve to heal.
These surgical methods are effective but they can cause side-effects in rare cases like numbness or hearing impairment. It's best then to discuss with your doctor which approach would be best for you and your life situation. Ultimately, though, there are ways to relieve you of this painful condition.
If you would like more information on treating facial pain, please contact us or schedule an appointment for a consultation. You can also learn more about this topic by reading the Dear Doctor magazine article "Trigeminal Neuralgia."