Posts for: February, 2021
By Tressa Priehs DDS
February 18, 2021

Despite momentous strides in recent years in the fight against cancer, treatments can still disrupt normal life. Both radiation and chemotherapy have side effects that can cause problems in other areas of health—particularly the teeth and gums.
If you or a loved one are undergoing cancer treatment, it's important to get ahead of any potential side effects it may have on dental health. Here are 4 things that can help protect teeth and gums while undergoing cancer treatment.
Get a preliminary dental exam. Before beginning treatment, patients should have their dentist examine their teeth and gums to establish a baseline for current dental health and to treat any problems that may already exist. However, patients should only undergo dental procedures in which the recovery time can be completed before starting radiation or chemotherapy.
Be meticulous about oral hygiene. Undergoing cancer treatment can increase the risks for developing tooth decay or gum disease. That's why it's important that patients thoroughly brush and floss everyday to reduce bacterial plaque buildup that causes disease. Patients should also reduce sugar in their diets, a prime food source for bacteria, and eat "teeth-friendly" foods filled with minerals like calcium and phosphorous to keep teeth strong.
Keep up regular dental visits. The physical toll that results from cancer treatment often makes it difficult to carry on routine activities. Even so, patients should try to keep up regular dental visits during their treatment. Besides the extra disease prevention offered by dental cleanings, the dentist can also monitor for any changes in oral health and provide treatment if appropriate.
Minimize dry mouth. Undergoing cancer treatment can interfere with saliva production and flow. This can lead to chronic dry mouth and, without the full protection of saliva against dental disease, could increase the risk of tooth decay or gum disease. Patients can minimize dry mouth by drinking more water, using saliva boosters and discussing medication alternatives with their doctor.
It may not be possible to fully avoid harm to your oral health during cancer treatment, and some form of dental restoration may be necessary later. But following these guidelines could minimize the damage and make it easier to regain your dental health afterward.
If you would like more information on dental care during cancer treatment, please contact us or schedule an appointment for a consultation. You can also learn more about this topic by reading the Dear Doctor magazine article "Oral Health During Cancer Treatment."
By Tressa Priehs DDS
February 08, 2021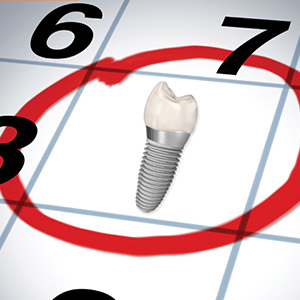 If you're thinking about getting dental implants, you may be curious about how long it might take. The answer depends on the health of your supporting bone.
Bone is an integral part of implant functionality as bone cells gradually grow and adhere to the newly placed implant to give it its characteristic strength. The implant also requires an adequate amount of bone to accurately position it for the best appearance outcome.
If the bone is sufficient and healthy, we can proceed with the surgical placement of the implant. The most common practice following surgery is to allow a few weeks for the bone integration described previously to take place before finally attaching the crown. With an alternative known as a "tooth in one day" procedure, we install a crown right after surgery, which gives you a full smile when you leave.
There's one caveat to this latter method, though—because the implant still requires bone integration, this immediate crown is temporary. It's designed to receive no pressure from biting or chewing, which could damage the still integrating implant. We'll install the permanent crown after the implant and bone have had time to fully mesh.
So, if your supporting bone is sound, the complete implant process may only take a few weeks. But what if it's not—what if you've lost bone and don't have enough to support an implant? In that case, the length of process time depends on the severity of the bone loss and if we're able to overcome it. In some cases, we can't, which means we'll need to consider a different restoration.
But it's often possible to regenerate lost bone by grafting bone material at the implant site. If the bone loss is moderate, it may take 2 to 4 months of regrowth after grafting before we can perform implant surgery. If it's more significant or there's disease damage to the socket, it may take longer, usually 4 to 6 months. It largely depends on the rate of bone regeneration.
In a nutshell, then, the health of your jaw's supporting bone has a lot to do with whether the implant process will take a few weeks or a few months. Regardless of the time, though, you'll gain the same result—new, functional teeth and a more attractive smile.
If you would like more information on dental implant restorations, please contact us or schedule an appointment for a consultation. You can also learn more about this topic by reading the Dear Doctor magazine article "Implant Timelines for Replacing Missing Teeth."