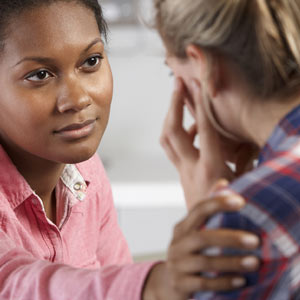 Waiting is part of life for a teenager: waiting to get a driver's license, to graduate high school or to leave home and stretch their wings. A teenager with lost teeth may also need to wait until they're older to obtain dental implants.
The reason arises from the differences in how implants and natural teeth attach to the jaw. Although natural teeth may seem rigidly set in the bone, they're actually held in place by an elastic tissue between them and the bone known as the periodontal ligament. Tiny filaments that attach to the teeth on one side and the bone on the other hold the teeth in place, but also allow the teeth to move gradually in response to mouth changes.
A titanium implant post doesn't have this relationship with the periodontal ligament — it's attached directly to the jaw bone. Over time the bone, which has a special affinity with titanium, grows and adheres to it to form a durable bond without an attachment to the periodontal ligament. Because of this the implant can't move like a natural tooth.
This is extremely important for implant placement because the jaws in particular won't fully develop in most people until their late teens or early twenties: the upper jaw in particular will tend to grow out and down. Natural teeth accommodate to these changes, but the implant can't — it will appear to retreat into the jaw. The gum tissues surrounding the implant also won't conform to the continuing growth and may appear receded.
The best approach is to choose a temporary replacement option until the jaws and other facial bone structures have finished growing. One example is a bonded bridge in which we use a bonding agent to attach a bridge of artificial teeth to teeth on either side of a missing tooth — bonding won't permanently alter them as with a traditional bridge. Once the jaws have finished growing, we can remove the bonded bridge and install the more permanent implant.
Ask any teenager: waiting can be hard. But with dental implants, waiting until the right time will help ensure the attractive result is a permanent one.
If you would like more information on dental restorations and teenagers, please contact us or schedule an appointment for a consultation. You can also learn more about this topic by reading the Dear Doctor magazine article "Teenagers & Dental Implants."